Overview
The Achilles tendon is a conjoined tendon composed of the gastrocnemius and soleus muscles with occasional contribution from the plantaris muscle, and it inserts on the calcaneal tuberosity. The plantaris muscle is absent in 6% to 8% of individuals. The Achilles tendon is approximately 15-cm long and is the largest and strongest tendon in the human body. The tendon spirals approximately 90 from its origin to its insertion and this twisting produces an area of stress approximately 2- to 5-cm proximal to its insertion. The tendon has no true synovial sheath; instead it is wrapped in a paratenon. The Achilles tendon experiences the highest loads of any tendon in the body, and bears tensile loads up to 10 times body weight during athletic activities. The tendon most commonly ruptures in a region 2- to 6-cm proximal to its insertion.
Causes
Factors that may increase your risk of Achilles tendon rupture include Age. The peak age for Achilles tendon rupture is 30 to 40. Your sex. Achilles tendon rupture is up to five times more likely to occur in men than in women. Playing recreational sports. Achilles tendon injuries occur more often in sports that involve running, jumping and sudden starts and stops - such as soccer, basketball and tennis. Steroid injections. Doctors sometimes inject steroids into an ankle joint to reduce pain and inflammation. However, this medication can weaken nearby tendons and has been associated with Achilles tendon ruptures. Certain antibiotics. Fluoroquinolone antibiotics, such as ciprofloxacin (Cipro) or levofloxacin (Levaquin), increase the risk of Achilles tendon rupture.
Symptoms
Whereas calf strains and tendonitis may cause tightness or pain in the leg, Achilles tendon ruptures are typically accompanied by a popping sensation and noise at the time of the injury. In fact, some patients joke that the popping sound was loud enough to make them think theyd been shot. Seeing a board-certified orthopedic surgeon is the best way to determine whether you have suffered an Achilles tendon tear.
Diagnosis
If an Achilles tendon rupture is suspected, it is important to consult a doctor straight away so that an accurate diagnosis can be made and appropriate treatment recommended. Until a doctor can be consulted it is important to let the foot hang down with the toes pointed to the ground. This prevents the ends of the ruptured tendon pulling any farther apart. The doctor will take a full medical history, including any previous Achilles tendon injuries and what activity was being undertaken at the time the present injury occurred. The doctor will also conduct a physical examination and will check for swelling, tenderness and range of movement in the lower leg and foot. A noticeable gap may be able to be felt in the tendon at the site of the rupture. This is most obvious just after the rupture has occurred and swelling will eventually make this gap difficult to feel. One test commonly used to confirm an Achilles tendon rupture is the Thomson test. For this test the patient lies face down on an examination table. The doctor then squeezes the calf muscles; an action that would normally cause the foot to point like a ballerina (plantar flexion). When a partial rupture has occurred the foot's ability to point may be decreased. When a complete rupture has occurred, the foot may not point at all. Ultrasound scanning of the Achilles tendon may also be recommended in order to assist with the diagnosis.
Non Surgical Treatment
Treatment for a ruptured Achilles tendon often depends on your age, activity level and the severity of your injury. In general, younger and more active people often choose surgery to repair a completely ruptured Achilles tendon, while older people are more likely to opt for nonsurgical treatment. Recent studies, however, have shown fairly equal effectiveness of both operative and nonoperative management. Nonsurgical treatment. This approach typically involves wearing a cast or walking boot with wedges to elevate your heel, which allows your torn tendon to heal. This method avoids the risks associated with surgery, such as infection. However, the likelihood of re-rupture may be higher with a nonsurgical approach, and recovery can take longer. If re-rupture occurs, surgical repair may be more difficult.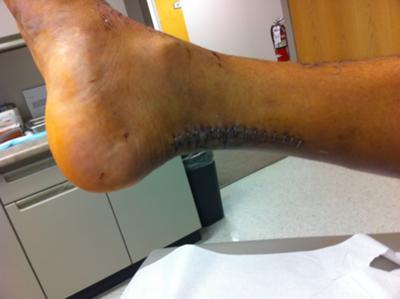 Surgical Treatment
The surgical repair of an acute or chronic rupture of the Achilles tendon typically occurs in an outpatient setting. This means the patient has surgery and goes home the same day. Numbing medicine is often placed into the leg around the nerves to help decrease pain after surgery. This is called a nerve block. Patients are then put to sleep and placed in a position that allows the surgeon access to the ruptured tendon. Repair of an acute rupture often takes somewhere between 30 minutes and one hour. Repair of a chronic rupture can take longer depending on the steps needed to fix the tendon.
Prevention
Here are some suggestions to help to prevent this injury. Corticosteroid medication such as prednisolone, should be used carefully and the dose should be reduced if possible. But note that there are many conditions where corticosteroid medication is important or lifesaving. Quinolone antibiotics should be used carefully in people aged over 60 or who are taking steroids.