Overview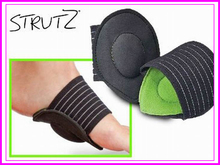 Heel pain is most often caused by plantar fasciitis, a condition that is sometimes also called heel spur syndrome when a spur is present. Heel pain may also be due to other causes, such as a stress fracture, tendonitis, arthritis, nerve irritation, or, rarely, a cyst. Because there are several potential causes, it is important to have heel pain properly diagnosed. A foot and ankle surgeon is able to distinguish between all the possibilities and determine the underlying source of your heel pain.What Is Plantar Fasciitis? Plantar fasciitis is an inflammation of the band of tissue (the plantar fascia) that extends from the heel to the toes. In this condition, the fascia first becomes irritated and then inflamed, resulting in heel pain.
Causes
Heel pain is most often the result of overuse. Rarely, it may be caused by an injury. Your heel may become tender or swollen from, shoes with poor support or shock absorption. Running on hard surfaces, like concrete. Running too often. Tightness in your calf muscle or the Achilles tendon. Sudden inward or outward turning of your heel. Landing hard or awkwardly on the heel. Conditions that may cause heel pain include. When the tendon that connects the back of your leg to your heel becomes swollen and painful near the bottom of the foot. Swelling of the fluid-filled sac (bursa) at the back of the heel bone under the Achilles tendon (bursitis). Bone spurs in the heel. Swelling of the thick band of tissue on the bottom of your foot (plantar fasciitis). Fracture of the heel bone that is related to landing very hard on your heel from a fall (calcaneus fracture).
Symptoms
The heel can be painful in many different ways, depending on the cause. Plantar fasciitis commonly causes intense heel pain along the bottom of the foot during the first few steps after getting out of bed in the morning. This heel pain often goes away once you start to walk around, but it may return in the late afternoon or evening. Although X-ray evidence suggests that about 10% of the general population has heels spurs, many of these people do not have any symptoms. In others, heel spurs cause pain and tenderness on the undersurface of the heel that worsen over several months. In a child, this condition causes pain and tenderness at the lower back portion of the heel. The affected heel is often sore to the touch but not obviously swollen. Bursitis involving the heel causes pain in the middle of the undersurface of the heel that worsens with prolonged standing and pain at the back of the heel that worsens if you bend your foot up or down. Pump bump, this condition causes a painful enlargement at the back of the heel, especially when wearing shoes that press against the back of the heel. Heel bruises, like bruises elsewhere in the body, may cause pain, mild swelling, soreness and a black-and-blue discoloration of the skin. Achilles tendonitis, this condition causes pain at the back of the heel where the Achilles tendon attaches to the heel. The pain typically becomes worse if you exercise or play sports, and it often is followed by soreness, stiffness and mild swelling. A trapped nerve can cause pain, numbness or tingling almost anywhere at the back, inside or undersurface of the heel. In addition, there are often other symptoms, such as swelling or discoloration - if the trapped nerve was caused by a sprain, fracture or other injury.
Diagnosis
After you have described your foot symptoms, your doctor will want to know more details about your pain, your medical history and lifestyle, including. Whether your pain is worse at specific times of the day or after specific activities. Any recent injury to the area. Your medical and orthopedic history, especially any history of diabetes, arthritis or injury to your foot or leg. Your age and occupation. Your recreational activities, including sports and exercise programs. The type of shoes you usually wear, how well they fit, and how frequently you buy a new pair. Your doctor will examine you, including. An evaluation of your gait. While you are barefoot, your doctor will ask you to stand still and to walk in order to evaluate how your foot moves as you walk. An examination of your feet. Your doctor may compare your feet for any differences between them. Then your doctor may examine your painful foot for signs of tenderness, swelling, discoloration, muscle weakness and decreased range of motion. A neurological examination. The nerves and muscles may be evaluated by checking strength, sensation and reflexes. In addition to examining you, your health care professional may want to examine your shoes. Signs of excessive wear in certain parts of a shoe can provide valuable clues to problems in the way you walk and poor bone alignment. Depending on the results of your physical examination, you may need foot X-rays or other diagnostic tests.
Non Surgical Treatment
If pain and other symptoms of inflammation-redness, swelling, heat-persist, you should limit normal daily activities and contact our office, or another doctor of podiatric medicine. Your foot would be examined, and an X-ray may be taken to rule out problems of the bone. Early treatment might involve oral or injectable anti-inflammatory medication, taping, padding, massage, stretching, exercise, shoe recommendations, physiotherapy, over-the-counter shoe inserts or, if the condition is chronic and there is a biomechanical basis to the complaint, orthoses (or orthotic devices) may be used to permanently take strain off the fascia. Only rarely is surgery required for heel pain. If necessary, however, it may involve the release of the plantar fascia, removal of a spur, removal of a bursa, or removal of a neuroma or other soft-tissue growth.
Surgical Treatment
Only a relatively few cases of heel pain require surgery. If required, surgery is usually for the removal of a spur, but also may involve release of the plantar fascia, removal of a bursa, or a removal of a neuroma or other soft-tissue growth.
Where is a heel spur located?
Prevention
Before you get out of bed in the morning, and then periodically throughout the day, do the following exercises to increase flexibility and ease pain. Slowly flex your foot and toes to stretch the tissue on the bottom of your sore foot. Hold the stretch for 10 counts. Relax and repeat. Do gentle ankle rolls to keep the tissues around the ankle and on the back of the heel flexible. Sit on the edge of your bed and roll your foot back and forth over a tennis ball.